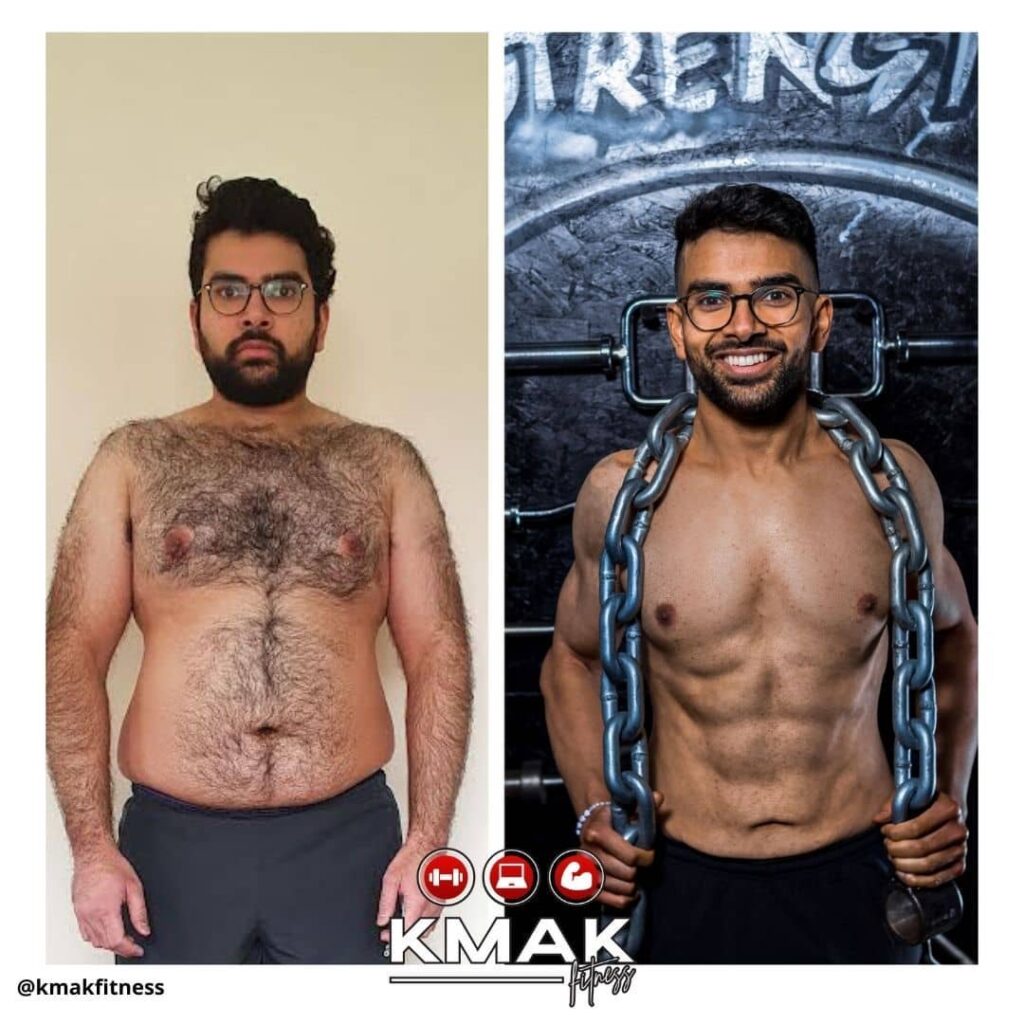 Prior to the first lockdown in 2020, Kishan was in good shape. He weighed 86kg, went to the gym regularly, and felt in the shape of his life. However, when the first lockdown hit and gyms closed, Kishan found himself at a loose end. Like many, he didn't have the motivation to workout at home, let alone knew how to train properly without the use of gym equipment. This is when Kishan's weight began to climb.
Working as a busy doctor during one of the most stressful times in his career, Kishan was working extremely long hours and under a great deal of pressure which took a massive toll on his personal life. Kishan would spend more than £100 a week on takeaway food and make frequent, if not daily, trips to 24-hour drive-throughs after long shifts, ordering enough food to feed a family of four.
These bad habits soon took a toll on Kishan's body and health as he would struggle to climb the stairs at the hospital he worked at without experiencing a shortness of breath or, most worryingly, chest pains. With a history of heart attacks in his family, Kishan worried that he would soon suffer the same fate.
"As a doctor I knew that I needed to make a change sooner rather than later, otherwise I was sure to follow the fate of many males in my family of suffering an early, and potentially fatal, heart attack. I knew that I did not want to be the hypocritical doctor who would be advising his patients to lose weight, while he himself was obese. However, my self-confidence was so low that I did not have the energy, motivation, or courage to even fill out the enquiry form to even begin."
That following Christmas, Kishan hit rock bottom. After an incredibly difficult time, his health and wellbeing fell to the bottom of his priorities list and his confidence hit an all-time low: "I cannot remember a time that I was in a worse state either physically, mentally, or emotionally."
Kishan knew that what he was putting his body through was extremely unhealthy, but when your motivation and confidence is at an all-time low, reaching out can be one of the hardest things to do. But finally, after weeks of deliberation and half-filled out forms, Kishan knew that he needed to make a change and prioritise his health, and he decided to reach out to KMAK Fitness that following January.
As with many people looking for a coach, Kishan wanted to be certain he picked the right one for him. Although he was a regular gym-goer and knew his way around the equipment, Kishan wanted to ensure that he chose a coach that could help him achieve his goals whilst gyms were closed during the lockdown.
"As an experienced gym user, I had witnessed the "bro science"; cookie-cutter plans being dished out by numerous trainers at several gyms with seemingly no knowledge or care about their clients' lifting techniques or gym strategy. It was important to me that I found the opposite of this."
This trepidation is common amongst most people transitioning from a physical gym floor personal trainer to an online coach that you might potentially never meet in person. With the lockdown posing new problems, Kishan was especially sceptical that he wouldn't achieve his goals simply through home training with just two sets of resistance bands and a pull-up bar.
"Having done my research, seen Kunal's work with previous clients and having gained testimonies from family and friends who had worked first-hand with him, I knew that this would be right service for me."
As his confidence and self-esteem was so low, Kishan didn't believe that he would ever achieve the results or dream physique he wanted, and so he settled on the goal of just losing 10kg to get back to the 86kg he was prior to the lockdown and when he felt at his physical peak. From here, his aim was to steadily progress towards being less than 15% body-fat with the possibility of doing a photoshoot in 2-3 years should his confidence improve. However, Kishan sold himself short, and certainly got more than he bargained for.
In just 8 months of starting with KMAK Fitness working with coach George, stepping up his training, rectifying his diet, and reinforcing structures and better behaviours, Kishan not only achieved his initial goal but tripled it in a quarter of the time, losing an astonishing 30kg and achieving the physique he had always dreamed of!
Kishan worked hard through a steady fat loss phase until his body fat percentage reached below 10%. Throughout this process, he maintained his resistance training, shedding body fat and building muscle mass simultaneously. This process created a solid foundation for Kishan to build upon and stack more muscle and strength than he ever anticipated.
With the right guidance and direction, especially with home training during lockdown, Kishan was able to regain full control of his life and take his transformation progress to the next level. Although he had the tools and assistance to reach his physical goals, mindset was arguably the greatest enabler of Kishan's success.
As Kishan had experienced, mindset can be the greatest blockade as lack of confidence and motivation had prevented him from taking action sooner despite wanting to change and knowing that he was putting his health in danger. But by committing himself to his journey and trusting his coach and the process, the more Kishan progressed, the more his confidence grew, and the better his results became.
Reflecting on his journey, Kishan shares the top three mindset lessons he learned along the way:
Do not be afraid to get started. Do not let your own misconceptions, doubts or self-esteem hold you back.
Know your "why", ingrain it into your daily life and remember it every time you're in the gym, walking, or struggling to get out of bed in the morning.
And most of all, do not give a fuck about what anyone around you thinks, especially when they are trying to diminish, minimise or belittle your progress. Realise that it is a reflection of their own insecurities, and that instead a little education on your "why" goes a long way.
Having originally expected his photoshoot would be 2-3 years off, Kishan booked his first photoshoot on October 31st 2021, just 8 months after starting his transformation journey. He still has his 2-3 year photoshoot in mind, but aims to annihilate his goals aiming for bigger and better results – and if his first 8 months is anything to go by, he is sure to exceed his expectations!
"Making this progress in 8 months I have astounded myself. Most importantly though, my mental and emotional state has improved to no end through all of this. Digging myself out of a deep emotional hole has helped to improve my relationship with my amazing supportive fiancé, whom without, I would not have the capacity or motivation to have done this. It is also thoroughly heartening to have received numerous messages of praise, encouragement, and joy at my fitness journey but most significantly of all, that my transformation has encouraged and motivated others to make similar changes, no matter how big or small, to ensure they start to reprioritise their own health and wellbeing."
Kishan's Advice to Anyone Considering Working with KMAK Fitness
There is a reason Kunal and his team gain such loyalty from their clients – it's because they are genuinely treated like a family. No client takes priority over another, everyone is as important as the next. No matter if you've been there for 4 years or 4 days, they will strive to ensure you are on your way to make the progress you have craved for so long. It is never too late to start prioritising your health. The benefits of this extend so far beyond looking good, but the mental gains and the impact you will have on those around you, are invaluable. For those sceptical of using an online coaching service, please don't be. For me, it has meant I have gained not only dedicated coaches but now valued and close friends who I have welcomed openly into my life."
GOT A QUESTION? BOOK A CHAT RIGHT NOW